Anesthesiologists are healthcare professionals that know how to take care of their health, but no one can eliminate the threat of a physical disability happening to anyone. You're most likely aware that there are relatively more health hazards in your work compared to those of other jobs. There could be times in the span of your career when illness or injury could prevent you from working, and it's important to be prepared for when they come.
Why Does an Anesthesiologist Need Disability Insurance?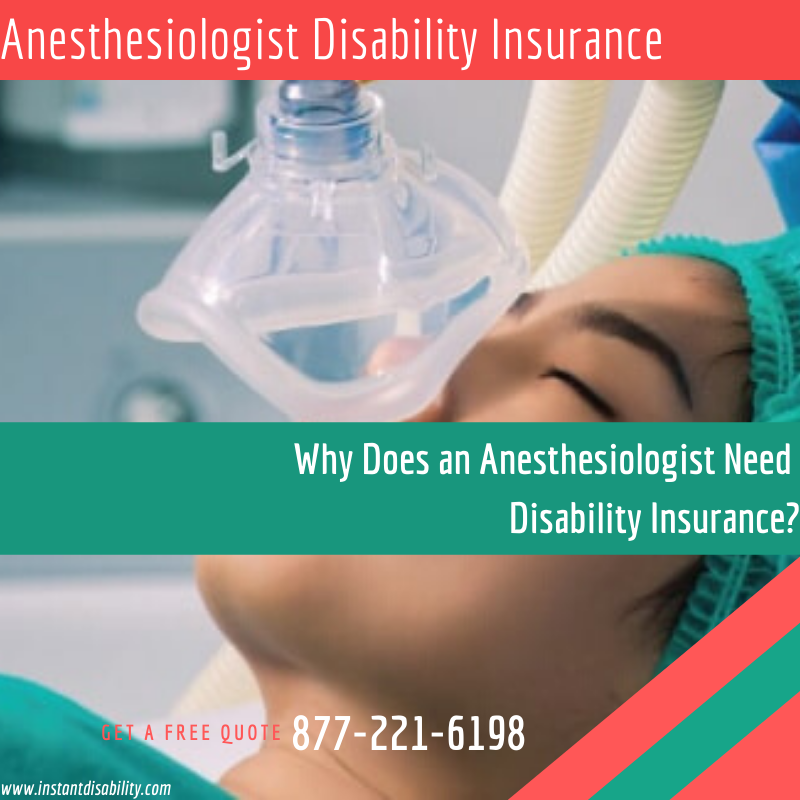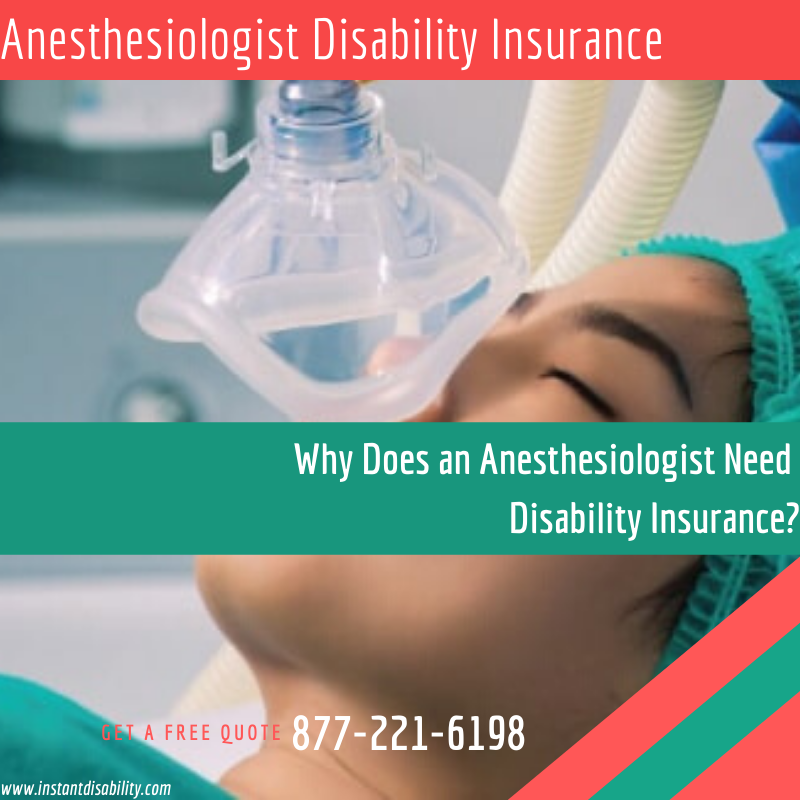 You may have a worker's compensation to protect you in your workplace, but what happens if the injury occurred outside of your work? Worker's compensation only covers injuries and accidents in the workplace or those that happened while performing job duties. Your auto insurance will only cover medical bills, rehabilitation and similar costs in case you become disabled while your health insurance will pay for the doctor's bills, medications, and surgeries. None of these is designed to do what you really need, though – replacing your lost income to ensure that you're able to meet your financial obligations.
If an injury happens that prevents you from doing work as you would usually, you may temporarily or permanently lose your high salary. You could be earning from $310,109 to $405,792 a year according to records at the Bureau of Labor Statistics, or around $25,841.67 to $33,816 per month. If you lose this income, it would put significant strain on your budget, and it's rare that anyone can support their lifestyle without their monthly income. However, disability insurance can lessen the financial loss while you're not able to work. The disability insurance company will pay the monthly benefits as specified in the policy. So, you have to take the time to choose the most suitable disability insurance for your needs and budget.
How Can We Help?
When you need help with anaesthesiologist disability insurance, we're here to help. We will start working on your behalf to help you find the disability insurance coverage that is fit for your financial needs and will guarantee your financial stability in the long term. Working with us, you can:
Be able to review rates from some of the leading providers of individual disability insurance.
Get quotes from all major insurers in the US that currently offer insurance products in your specific geographic area.
Learn more about your options for anesthesiologist disability insurance and how it can benefit you in the event that you're injured and unable to work.
How much coverage do you need?</2>
The first step to finding out how much coverage you will need is to determine the minimum amount necessary for your living expenses monthly. Then, determine the other sources of your monthly income without your salary. Other sources of income could be your employer's group disability insurance, your savings, etc.
The coverage of your disability insurance policy should be close to the difference between the monthly expenses and expected income. It's the amount that should be replaced by the monthly benefit from your individual disability insurance.
Anesthesiologist Disability Insurance Policy Details
It's not easy to choose the most suitable disability insurance policy that will protect your income should you become disabled by illness or injuries. Insurance companies offer different versions of disability insurance that they consider would be most attractive to their target consumers. Make sure to read and understand all provisions of your policy.
Buy a Disability Insurance Policy While You're Young
Disability is farthest from the mind of young professionals. They have more enjoyable things or activities to spend their money on but we have to be aware that an illness or injury can happen to anyone at any time.
One of the primary factors that contribute to higher risk is age. Getting disability insurance when you're young, say before age 30, not only gives you peace of mind, you will be paying a lower premium than when you buy at age 35 or older. This is mainly because disability insurance policies are priced based on the risk of you filing an insurance claim and age comes with an increased risk of illness. The higher your risk for filing a claim, the more you'll pay.
If you do buy coverage when you're starting out in practice, it's advisable to get a policy with a future purchase option, sometimes referred to as a future increase option, a future insurability option, or a benefits update rider.
The Chance of Being Injured
Think that you're not at risk of being injured and unable to work because you're not in a high-risk industry for injuries? That's not the case. In fact, you'll find that back injuries, cancer, heart disease, and other illnesses are actually responsible for most long-term disability cases in both men and women. If you are age 40 or older, your chances of experiencing a disability prior to age 65 that lasts three months or greater are 21%. That's just a one in five chance – high odds to be gambling on with your life and your family's financial stability.
Why Choose Us
We work with one goal in our mind – to give you the financial stability you need and deserve. We work with insurers across the nation to provide high-income professionals like you with the protection that only anesthesiologist disability insurance can deliver. When you work with us:
You'll be able to review rates from the leading providers of individual disability insurance to make an informed comparison and a sound decision.
We quote all the major disability insurance carriers, so you'll have many quotes to compare to ensure that you're getting the best possible coverage, at a rate that's right for you.
We'll help you learn more about the options available to protect your anesthesiologist's income to ensure that you get the peace of mind and financial stability that you deserve.
It requires time and effort to study and compare the various anesthesiologist disability insurance policies offered by various insurance companies.
Let us help you find disability insurance information, coverage and rates that fit into your overall financial plan. Give Jeff Pennington a call at 1-877-221-6198 or use the form on the right to request a quote, get answers to your questions, and find the right policy.
Related Posts: