Providing Disability Insurance Services for Architects, Engineers, and Attorneys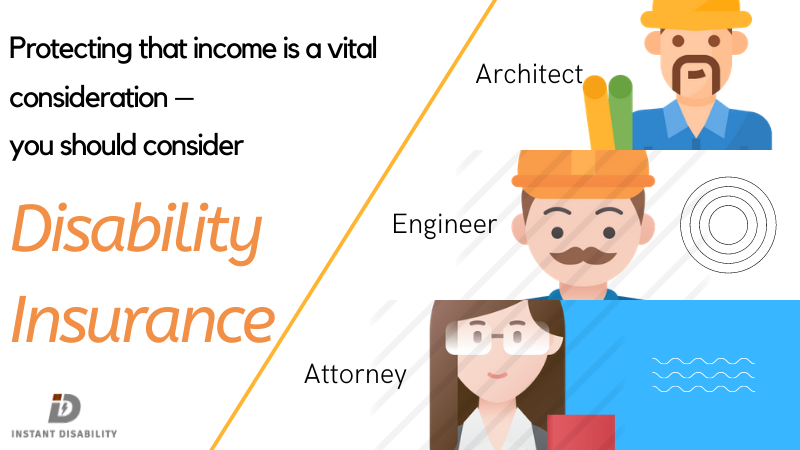 Architects, engineers, and attorneys are highly-educated professionals who perform essential services for their clients and in exchange, they earn a high income. If you fall into one of those three categories, chances are good that your income is mostly responsible for paying your family's financial obligations. You may also have business-related expenses that come out of it.
Protecting that income is a vital consideration – you should consider disability insurance for architects, engineers, and attorneys, and possibly a business overhead expense policy if you own your own firm.
Why You Need Disability Insurance
According to a study by the American Psychological Association, almost 75% of Americans are experiencing financial stress at least some of the time, and nearly a quarter of us are feeling extreme financial pressure. Moreover, money is the leading cause of weight in a relationship, which only shows the importance of having a stable income and safe finances. As an architect, engineer, or attorney, losing your valuable income can not only put a strain on your finances but also your family relationships. This shows how important it is to protect your income at all times, and disability insurance can help you do that.
Rising Disability Types
Because most injuries happen outside of the workplace, workers' compensation doesn't cover costs arising from these injuries. Health insurance, on the other hand, only gives you limited coverage for your medical expenses. But what happens with your income? Nothing replaces that while you're unable to work, and without it, how will you cover your monthly costs?
When you think about disabilities, chances are good that you think about physical injuries that require time to treat and heal. Those still occur, but most Americans will not experience such an injury. Instead, the one-third of Americans who will eventually experience a disability are increasingly at risk for frightening medical conditions. Heart disease, diabetes, and cancer are all on the rise, and there is little that can be done to reduce your risk level. Disability insurance for architects, engineers, and attorneys can provide you with a layer of financial protection.
Don't I Have Insurance?
You probably think that you already have disability insurance through your work. However, it's more likely that you don't have any income coverage from an existing insurance policy currently. Reality is that you could be injured at home doing routine yard work, on the way to work, or just when taking a night stroll through the neighborhood. You could also suffer from a more serious illness like cancer and find yourself unable to work. Where would you turn for financial relief in those situations?
Your worker's compensation, health insurance, and auto insurance will only provide limited coverage for your medical costs, but what you will need then is a replacement for your lost income. This can be provided only through disability insurance.
How Disability Insurance Works
Once you purchase a disability policy and experience a qualifying disability, your insurer will pay you the monthly benefits as specified in the insurance policy. You'll receive payments based on your actual average annual income, and that money can be used for anything you need.
There's more to it, though. Many insurers have very different definitions of what a qualifying disability is, which will affect the protection you will enjoy. You'll also find that some insurers offer additional protection options and that the rates you pay can vary greatly.
That's why it's so important to pick your disability insurance policy carefully, and we're here to help you do that. We can work with you to help ensure you arrive at an accurate, informed, well-considered decision. We've spent years working with high-income professionals to understand their needs, and then match them with quotes on disability insurance for architects, engineers, and attorneys from top-rated insurance companies in the US.
How Your Disability Rates Are Calculated
Insurance companies group occupations into specific classes based on the documented risk for a particular job. These classes look at the hazards of your job and the difficulty returning to work following a long or short-term disability.
Every insurance company ranks the factors to determine the cost of a policy – age, gender, income, the health of the individual, location, and specialty. These factors are analyzed carefully to determine the overall cost of occupational disability insurance.
What You Get Working With Us
Review rates from top disability insurance companies.
Our goal is to ensure you can easily compare disability insurance options, and decide which product is best suited for your specific needs and goals. Our online disability insurance system offers a wide range of benefits and advantages.
Personal service from an experienced insurance agent.
You'll find that the rates offered on disability insurance policies rarely vary, no matter which insurance company provides the quote. What does change is the level of customer service you receive. Many online services simply send your name to their shortlist of insurance agents and then return those results to you.
You'll work directly with seasoned professionals.
Our goal is to deliver a customized service to all our clients. Anyone that turns to ask to get a disability insurance quote will work directly with a team of seasoned professionals. They are all experienced agents dedicated to providing the best service around, so you, and your financial wellbeing will be left in good hands.
Call us today at 1-877-221-6198 or use the form to the right to start the quote process.